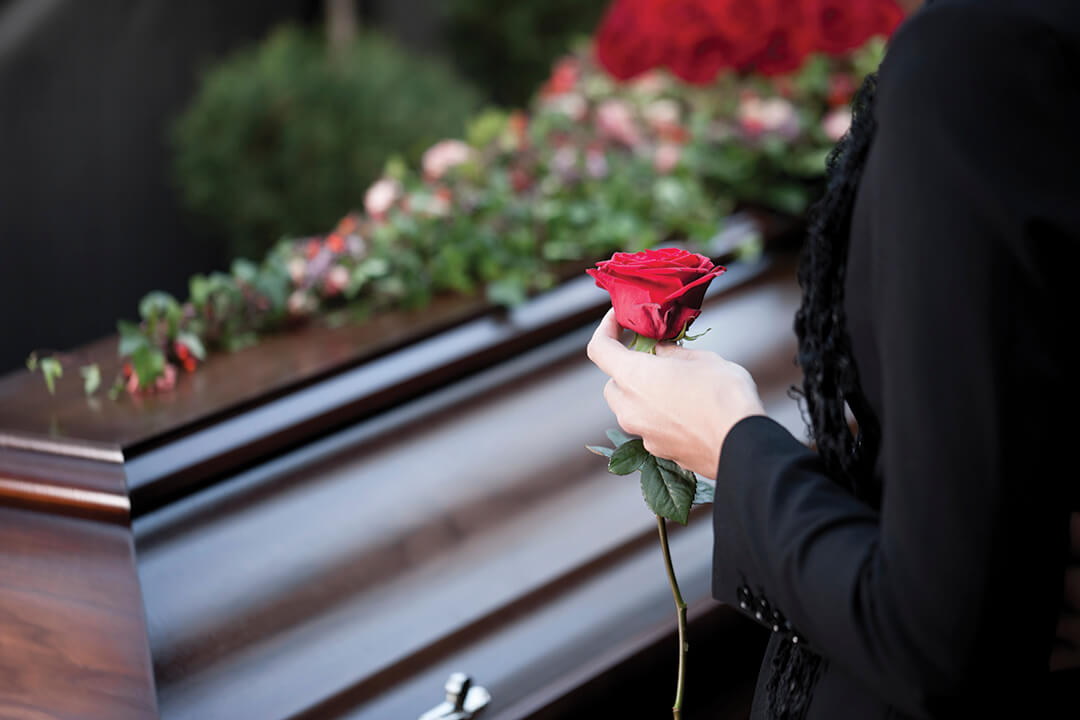 Honouring lives with dignity and respect
At M G Evans & Sons, we understand that saying goodbye to a loved one is a deeply personal and emotional experience. Our burial services are designed to provide a meaningful and respectful farewell, honouring the life and memories of your cherished family member or friend.
Our commitment to you
With years of experience in assisting families during their time of loss, our compassionate team is committed to supporting you every step of the way. We believe that a personalised and meaningful burial service can help ease the burden of grief and provide a sense of closure for those left behind.
Tailored to reflect a unique life
We recognise that each individual has a unique story to tell, and no two lives are the same. Our dedicated staff takes the time to listen to your wishes and understand the essence of the departed. This understanding enables us to create a burial service that truly reflects the personality, passions, and values of your loved one.
Burial service options
At M G Evans & Sons, we offer a range of burial service options, allowing you to choose what best aligns with your preferences and traditions. Our offerings include:
Traditional Burial: A timeless and classic option, the traditional burial provides an opportunity for family and friends to come together and pay their final respects. This service can be held at the graveside or within a place of worship.
Graveside Service: Held exclusively at the gravesite, the graveside service is an intimate gathering that allows for a personal farewell amidst nature's beauty. Family and friends can gather to share memories and bid their final farewell.
Memorial Service with Burial: For those who choose cremation but still wish to have a burial, a memorial service can be arranged before or after the burial. This option allows for more flexibility in planning and location while still incorporating burial as a meaningful memorialisation choice.
Green Burial: For those who embrace an eco-friendly lifestyle, we offer green burial options that promote environmental sustainability and conservation. These services align with nature and leave a lasting legacy of care for the Earth.
Personal touches to honour the departed
We understand the significance of personalising a burial service to create a lasting tribute. Our team can assist you in incorporating unique touches, such as meaningful readings, favourite music, or symbolic gestures that celebrate the life of your loved one.
Compassionate support throughout
During this challenging time, our caring team is available 24/7 to provide guidance and support. Whether you have questions about burial service options, need help with legal documentation, or require emotional assistance, we are here to ease your burden in any way we can.
Contact us
If you are considering burial services or have any questions about the process, please don't hesitate to reach out to our team on 01827 713240 or you can send us a message using our contact form and we will contact you as soon as we can. We are here to assist you in creating a meaningful and fitting tribute for your beloved departed.
At M G Evans & Sons, we believe that every life deserves to be honoured with dignity and respect. Allow us to help you navigate this difficult time and create a beautiful tribute that reflects the essence of your loved one's journey.
A big thank to George and the family for all the help and support they gave me.
Mrs Bishop
My family and I would like to take a moment to thank M G Evans & Sons for conducting my nan's funeral today. Particularly Matthew, who was brilliant at his job, and very professional. The day ran smoothly and we trusted you completely to give my nan the send-off she deserves.
Logan, Rachel & Family
Thank you so much for the excellent service you gave to Mary, I highly recommend to anyone going through a sad loss. Matthew was brilliant showing so much care, also Eileen was so kind, as was all the staff. Fantastic service.
Alfred Pope
Grateful thanks to Carly, Richard and all the Chauffers for all the care and attention that you gave me and my family, whilst arranging and directing the funeral for Mr Watson. Your service, advice and kindness were exceptional. Once again many thanks.
Mrs Watson & Family
Thank you for your care, consideration, compassion and professionalism with the funeral arrangements. A sad day made easier to bear with your support.
Pauline, Jack West & Family
A huge thank you to you all. We felt so lost when our beloved mother past away, but you got us through it smoothly by showing us compassion and comforting us all in a very professional way.
Gaye, Hilary & Shelagh
Thank you so much for your kindness, help and support. After we lost our Mum, you helped us through a very hard time. Your thoughtfulness is very much appreciated.
Nikki, Kerry Lynn & Family
Thank you so much for taking care of both my late mother and ourselves. You guided us through a very difficult time, combining professionalism and a very human touch.
Kerry & Peter Mann
Thank you most sincerely for all the help and guidance that we received throughout the funeral process. Everything went very smoothly along with the lovely contribution and beautiful flowers.
Terry & Jenny Jeffries
Areas we cover
We cover all areas of the United Kingdom including England, Scotland and Wales.
(We do not cover Isle of Wright, Ireland, Jersey, Guernsey and Scottish Islands)